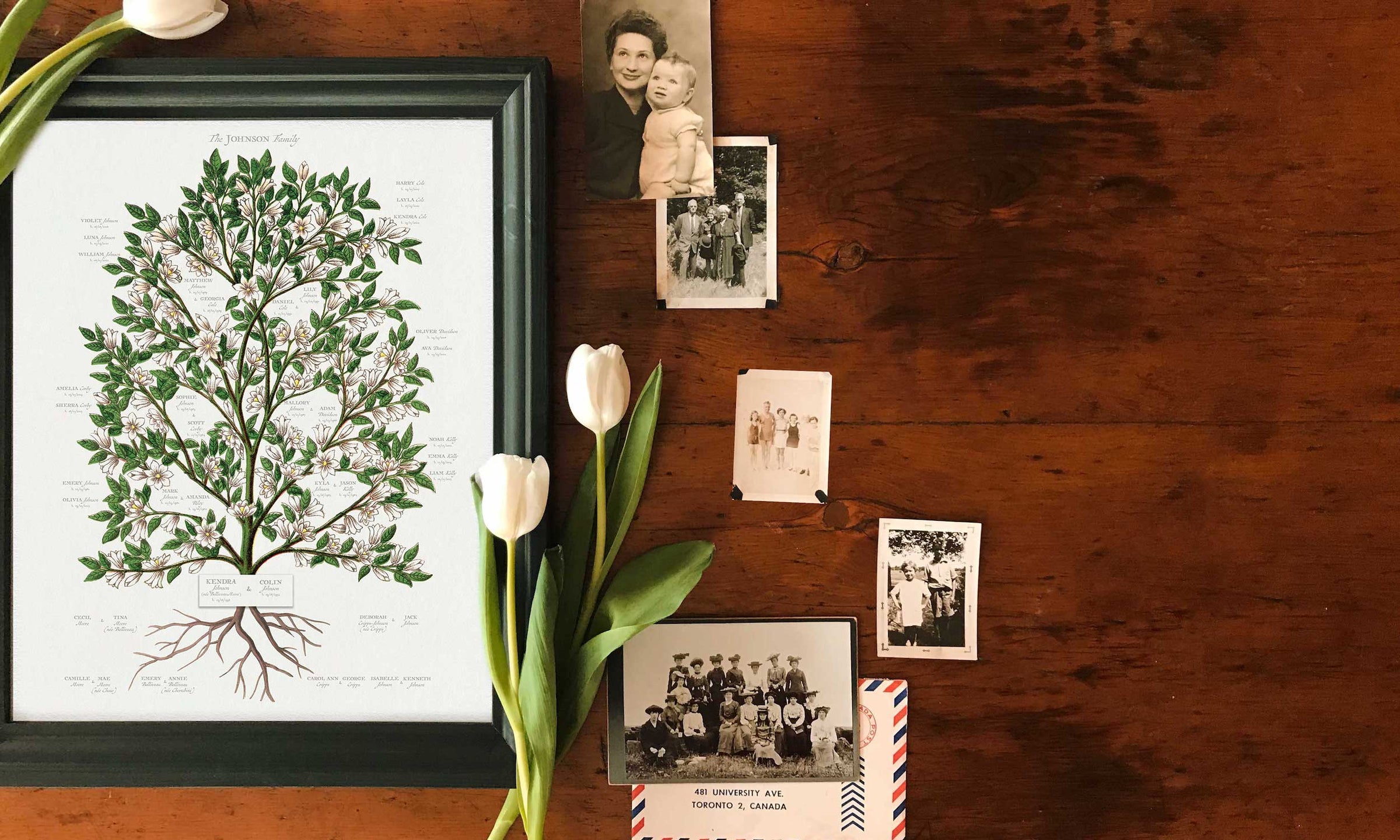 Turn Your Family Tree
Into Botanical Art
We use real Historical Botanical Artwork to transform your family tree into a work of art.
How it Works
1. Order Your Tree
Select design, print size, and frame.
2. Complete the template
We will email you a template to collect your names after you order.
3. Review Your Proof
We will send you a proof to review and you can make any changes needed.
ABOUT US
Hi there! Family Botanic is run by a mother/daughter duo - Margot and Annie. We founded Family Botanic in Summer 2020 with the goal of making family trees beautiful enough to hang on the wall.
As Seen In...
Testimonials from Our Customers:
★★★★★

I ordered the Vintage Pink Buckwheat as a gift for my parents and they absolutely loved it. It arrived beautifully wrapped and was even more stunning in person than the pictures from the website suggested. The team from Family Botanic were very helpful throughout the process and ensured that everything was exactly how I wanted it. Couldn't recommend this enough.

- Will
★★★★★

Love Love Love!

The experience has been simply stellar. Margot and Annie are patient, professional and customer focused. Such a wonderful mother daughter team...I really can't say enough good things about Family Botanic!

- Evans Family
★★★★★

I was so incredible impressed with Family Botanic! The customer service is exceptional. Margot made me feel like she truly cared about making my family tree special. Everything about the process from beginning to end was super easy. When I opened the box when it arrived, I was blown away! The quality of the frame and print was amazing. I highly recommend this unique and high-quality product to anyone. I've recommended it to all my friends. I look forward to ordering from Family Botanic again in the future.

- Kylie
★★★★★

I got the buttercup tree for my grandparents anniversary. It's such a beautiful way to commemorate your family! This family business is so delightful to work with and will work with you to make sure you're happy! Thank you guys!

- Sarah
★★★★★

Such a unique product!

I gave butterfly/moth tree as a gift to my parents and they were so happy. Excellent customer service. Margot and Annie are the best!

- E. M. W.
★★★★★

Margot went above and beyond to make the perfect gift for me.

I wanted a very specific fish for my fisherman brother in law and she found them for us. She went out of her way to personalize this gift. The print is very well packaged and safely shipped with a quick delivery time. I highly recommend family botanic.

- Miranda
★★★★★

I love how our family tree is also a beautiful work of art on the wall in our living room. The process was painless. The owner was super helpful in helping sort out details.

- Jo-Anne
★★★★★

A beautiful gift and 5 star service!

Thank you Family Botanic! We couldn't have asked for anything better.

- Angus
★★★★★

Beautiful!

Really excited to give as a present. So excited, I just ordered one for another person!

- C. H.